Adventure vacation in North Wales
Adventure vacation in North Wales is for everyone.
Adventure holidays in North Wales should be on the shortlist for your next active, adventure vacation. Read here and judge for yourself.
North Wales is Welsh "to the bone". It is a holiday region known to Englishmen, true to language and tradition, music and history. Here you will find magnificent castles, old fine railways that still run with steor charm and music festivals that are worth a trip in themselves. The sometimes dramatic nature also offers adventure travel: Waterfalls, mountains, the coast at Snowdonia with beaches with sand and cliffs are also a playground for those seeking the adventure. Adventure in Wales we have a whole section on soon with very innovative journeys within adventure, active holiday and nature holiday.
Let's start here: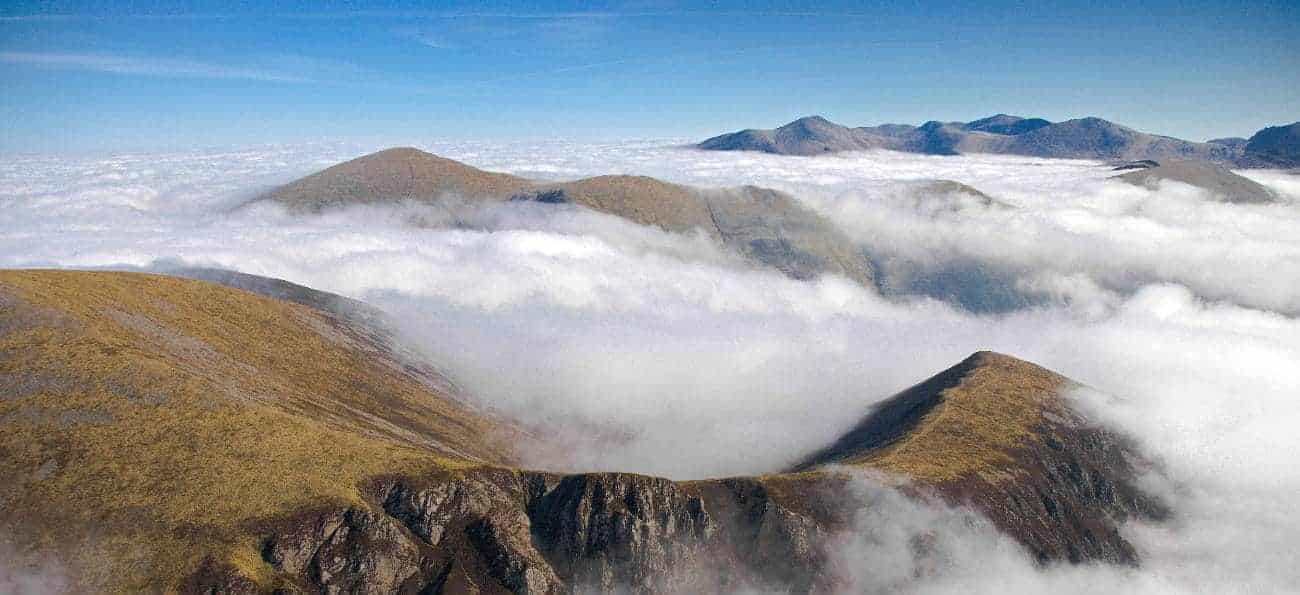 Wales' famous mountain landscape: Snowdonia
Snowdonia was the first national park in Wales in 1951. Now 67 years old, the national park is more vibrant and visited than ever, but you feel you have a lavish mountain landscape for yourself. And mountains are worth visiting all year long. Every season is different, every day is different, and you can always come up on the mountain and have a great nature experience. Snowdonia consists of no less than 9 mountain ranges covering 52% of the 2130 km2 protected area of ​​the National Park. You will also find 99 mountain peaks, all of which are over 900 meters. One of these is Big Snow Snowdon, the highest mountain in England and Wales.
Adventure vacation in North Wales in the mountains: What to experience?
You can look forward to a range of options from affordable and guided mountain walks to actual mountaineering provided by our adventure travel partner in Wales, Adventuretours Uk. Here are some of the exciting opportunities for an active North Wales holiday:
Guided mountain walks in North Wales
A beautiful, healthy and active holiday, where the vast majority can be. Get a nature experience out of the ordinary.
Guided mountain bike tours in North Wales
Do you know that. You want to explore a new country or area e.g. North Wales by bicycle. And you always spend time researching. It is both cozy and time consuming at the same time. Sometimes an organized trip is just better and easier. The local experts can give you a better ride on the mountain bike, thanks to local knowledge and connections and of course deep knowledge of mountain biking.
Adventure Tours UK has boiled down to a few points:
Bicycle friendly transport
An often overlooked advantage of an organized mountain bike ride is the transportation. From the moment you arrive at the airport to the moment you leave, your bike transport is taken care of. And your needs change when your bike is assembled and the ride is on and you spend it day in, day out. How do you then transport it to the next destination? It's a bit like the Tour de France, so someone has to take care of it.
With a small group trip with special bicycle transport of your precious bicycle, that part is controlled. And custom built bike trailers mean your bike can be transported easily and securely between the trail systems and stages. That's one less thing to worry about.
Learn new skills
At Adventure Tours UK, our mountain bike guides are not only qualified to lead groups, but also to teach cycling skills. To make sure you bring home more than amazing memories, we include a ½ day skill course to help you develop your skills on a mountain bike. Plus our guides provide ongoing teaching and advice throughout your journey. So not only can you explore the best trails that a region has to offer, you also have the opportunity to improve your skills on a bike. You will be more confident in the trails, driving in a way you might not have tried before and feeling more relaxed while doing so. You will come home once you have ridden the amazing trails of beautiful North Wales and you will be a better rider to it.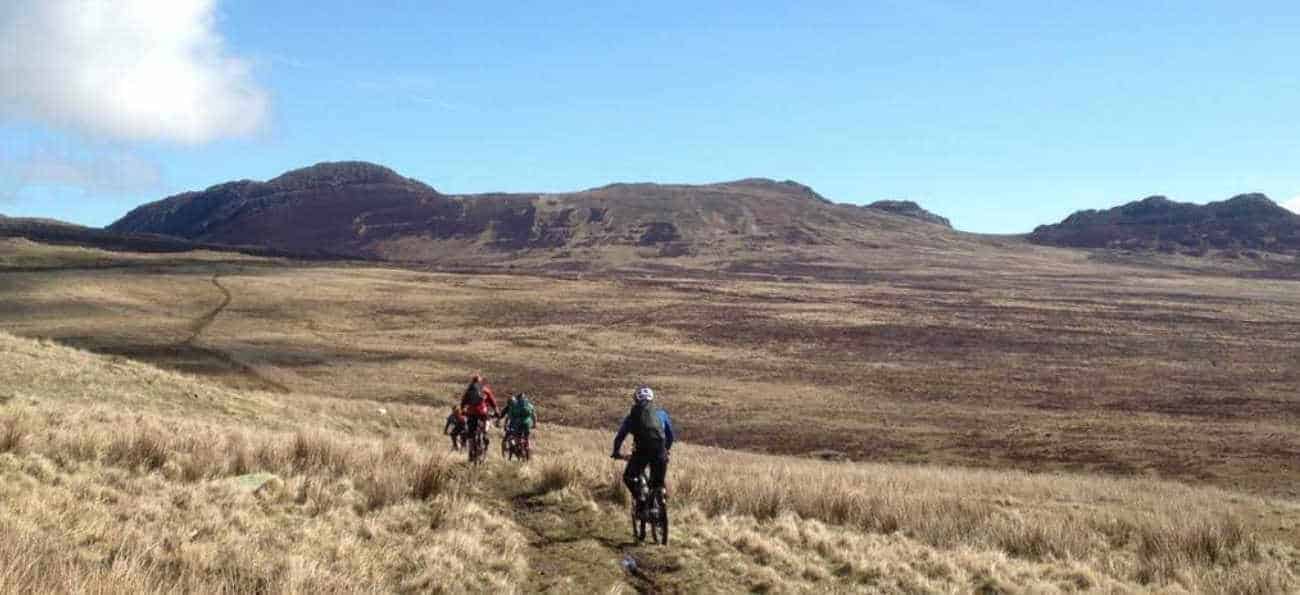 No need to plan routes on your mountain biking vacation
Designing your own mountain bike tour can be extremely rewarding. But it is certainly very time consuming. Your time is precious, both before you travel and while on vacation. On a guided mountain biking holiday, you do not have to spend time researching routes. And you want to be confident in the knowledge that the routes on the trip are the right ones.
Professional, local guide
One of the most obvious and valuable benefits of a guided MTB tour is the qualified local guide. They are there to make sure you get the most out of your adventure. Mountain biking can allow you to explore the most remote desert an area has to offer. Doing this with the expert knowledge of a local guide means you can explore the most otherwise inaccessible areas.
A knowledgeable, local guide can tell you what's coming just around the corner on the trail, where the best place to take a photo is and the 'naughty' sections of the trail that only the locals know. All with the knowledge that if anything goes wrong, you will be in expert hands.
Meet other mountain bikers
Mountain biking is best enjoyed with other like-minded adventurers. Guided MTB holidays are a great opportunity to make lifelong friends who share your urge for adventure on mountain biking. You already have a deep interest in mountain biking and outdoors. And now you discover a new wild place, a wilderness, and often you share life-changing experiences together. Here's how to form some of the most rewarding friendships.
River bugging
River bugging is, for most, a whole new way of subjecting a rushing river. Watch the video!
Multi activity adventure travel in North Wales
Experience Europe's adventure center on an Adventure holiday in North Wales and meet the most adrenaline pumping challenges. You can. We have the best instructors who only wish you a cool and safe holiday. Try this unique holiday form where you play in the mountains, challenge the rivers and the North Wales coastline. It is the ultimate journey for you who has an adventurer in you, loves sports and new challenges.
Adventure vacation in North Wales and Adventure vacation
THEMESALL COUNTRIES
If you are missing inspiration for your next holiday, explore the many travel options of traveltalk.
Traveltalk Partners
We always have partners on the holiday destinations you would like to visit. Click on a logo to read more about destinations and options.